Bangladesh economy has been growing at seven per cent for the past five years. The country is supposed to graduate from a least developed country (LDC) to a developing one by 2021. However, the coronavirus pandemic or Covid-19 has emerged as a major challenge for the country's economy at a moment, when most analysts believe that the economic stability has contributed to political stability, lent legitimacy to the Sheikh Hasina Government and weakened the opposition.
The Hasina Government is now in overdrive to meet the challenge head on, and ensure that this unforeseen threat does not snowball into a major national crisis. It ordered a complete lockdown in the country, starting March 26, for 10 days to begin with, and later extended it till April 10. As of April 8, Bangladesh has reported 218 positive cases of Covid-19, with 33 recoveries and 21 deaths. Besides, 111 people have been kept in isolation and a total of 68,324 people have been quarantined and 58,167 people have been released from quarantine. What explains the government's cautious approach is its realisation that being a densely populated country of more than 160 million people, the health-care system is not adequate to deal with possible escalation in country-wide transmission of the virus.
Government's Initiatives
The Covid-19 pandemic has demonstrated how ill-prepared most of the countries are, including in South Asia, to deal with such a challenge. Bangladesh, like other countries in the region, reacted slowly to the pandemic even though the first confirmed case was reported on March 8, ordering a lockdown starting as late as March 26, whereby all public and private offices were closed and travel by air, road and waterways were stopped till April 6 which has now been extended to April 10. The Department of Immigration stopped issuing fresh passports until further notice. To further prevent Covid-19 from spreading, the domestic flights too were stopped from March 31.
The government also banned flights originating from Bahrain, India, Kuwait, Malaysia, Oman, Qatar, Saudi Arabia, Singapore, Turkey, and the United Arab Emirates (UAE), countries where many Bangladeshis are employed. Except for the United Kingdom (UK), it banned flights from other destinations in Europe and declared that after March 30 it would not allow its national carrier to fly to two destinations in the UK. However, the government notified that commercial flights to and from China, Hong Kong, Thailand and UK will continue their operations until further notice. From March 15, the government had also discontinued visa on arrival facility. Though on March 1 it flew back 312 of its citizens from Wuhan, it could not arrange flights to bring back 171 more citizens. An India Air Force special flight that went to Wuhan carrying medical supplies, evacuated 23 Bangladeshis along with Indians and also people from Maldives, Sri Lanka and Nepal. According to the Chinese Embassy in Bangladesh, 5,760 Bangladeshis are living in China.
Before government enforced the 10-day lockdown, starting March 26, thousands of people left Dhaka for their villages in other parts of the country in overcrowded buses, railways and ferries that were packed several times over their capacity. In her address to the nation on the eve of Bangladesh's independence day on March 26, Hasina appraised the people about steps taken by the government and suggested them to follow instructions provided by the health department and not to panic. She later addressed the government officials working in 64 districts over video to coordinate Bangladesh's fight against Covid-19 and extended the lockdown period till April 10. The government has drawn out a national action plan to deal with possible surge in Covid-19 cases. It has set up "committees from the national up to the upazila level with multisectoral involvement representing the relevant ministries and national and international organizations and development partners."
Many analysts attribute such low numbers to poor testing facility and believe that many more may have been affected. According to a report, only one suspected case is being tested for approximately 100,499 people in Bangladesh. While the Institute of Epidemiology, Disease Control and Research (IEDCR) remain the nodal agency, nine testing facilities are open in Dhaka and five outside of Dhaka. According to reports, the government has set up 1,050 isolation beds in the capital and 4,515 in the divisions and districts. However, the government's efforts are well-supported by the Bangladesh Army, which has deployed 399 teams to work with the civil administration in 62 out of 64 districts. More than 5,000 troops have been deployed to help curb the spread of coronavirus across the country. The World Bank, to help Bangladesh, has fast tracked the approval of $100 million to prevent, detect, and respond to Covid-19 as per the national action plan of the government. India has provided 30,000 surgical masks and 15,000 head-cover to support the efforts of the Bangladesh Government. UK also has announced Tk 2.18 billion in aid.
The most difficult task before the government is how to prevent people from visiting mosques as it is a sensitive issue. The Islamic Foundation of Bangladesh has suggested that muftis must stay away from rumours and allow the continuation of the azan, Friday prayers and fazr prayers with a limited number of people. It has barred those who have returned from virus-affected countries or have symptoms of coronavirus, and those who are old and have serious ailments. However, such guidelines have remained on paper and largely ignored till date. The government, even though it denied permission for popular congregations, did not take any action when nearly 25,000 people gathered at Raipur in Lakshmipur District on March 19, for a mass prayer to contain coronavirus by chanting six Quranic verses of healing. On April 6, the Ministry of Religious Affair finally decided to suspend prayers for public at the mosques.
Another real danger for Bangladesh is the extremely congested Rohingya refugee camps. Most of the refugees stay in small huts and work outside the camp, exposing them to Covid-19 infection. Recently, a case was reported from Chittagong where these camps are located. Enforcing social distancing in these camps is practically impossible. What makes the situation more problematic is poor access to health facility and monitoring of suspicious cases in the camps. Refugees, however, are very much part of the government's National Preparedness and Response Plan.
Impact on Economy
The lockdown is going to affect the country's garment sector hugely. Already, H&M, a Swedish company and one of the major importers of garments from Bangladesh, has stopped placing orders. The Bangladesh Garment Manufacturers and Exporters Association (BGMEA) has informed that around 1,025 readymade garment (RMG) factories have reported postponement and cancellation of export orders worth $2.90 billion, affecting 2.10 million workers as of March 31. According to a report "cancellations of planned orders, for April-December, amounted to nearly $1.7 billion." Most of the garment manufacturing units have closed down following the government order.
In financial year 2019, the country's export earnings from the RMG sector were to the tune of US$ 34.13 billion, 83.52 per cent of the country's overall export earnings. This sector also imported raw materials worth $12.18 billion. Due to the order banning movement of non-essential goods, some of the exporters are fearing congestion at the Chittagong Port. The total storage capacity of the port is 49,018 twenty-foot equivalent units (TEUs). However, the number of loaded containers has already risen to 40,000 TEUs. Therefore, given the lockdown, both import of raw materials, machinery and other products that feeds into the garment industry as well as export is likely to be affected.
It is important to note that the garment industries in Bangladesh employ mostly women and many of them are sole breadwinners for their families. Therefore, the government has not closed down the garment industries, leaving their management to individual manufacturers. According to a report, the industry employs around 3.5 million workers. As per section 16 of the Bangladesh Labour Act, which deals with the rights of laid-off workers for compensation, the companies have to pay half-day salary to the workers. In some cases, the garment workers stopped coming to the industry and some owners who were forced to shut down their industries have threatened to invoke section 13/1 of the Bangladesh Labour Act, according to which absence from work means employees are on strike and which would mean no payment.
According to Bangladesh Bank, "Earnings from woven garments and knitwear fell by 5.88 percent and 5.17 percent respectively during July-February 2019-20, as compared to the same period in the previous fiscal year." This sector is already under stress and with Covid-19 the impact on this sector would be serious. The following chart shows the contribution of the garment industry to export earnings of the country.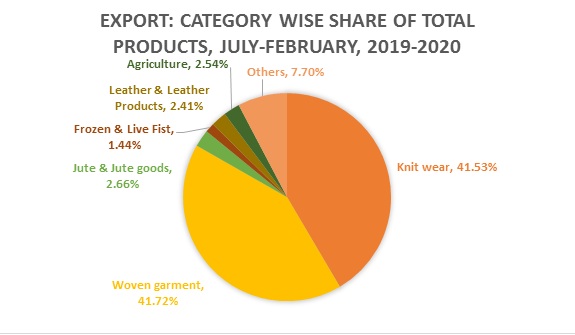 Source: "Major Economic Indicators: Monthly Update", Bangladesh Bank, March 2020, p. 14.
To deal with this situation, the government has announced Tk 5,000 crore (US$ 590 million) bailout package to pay salary and wages to the workers employed in the garment industry and has offered loan at two per cent interest. The government has also announced an additional Tk 67,750 crore financial stimulus package. Any protracted lockdown combined with unchecked spread of the contagion would lead to unmitigated economic crisis and complicate the government's response to it.
Bangladesh is also likely to receive low remittances, which is a major source of its foreign exchange, since most of the West Asian countries, Malaysia and other European countries, where 80 per cent of the Bangladeshi overseas workers are employed, are under lockdown too. Due to suspension of flights, many of these are stranded in West Asia without work and some of them who were preparing to leave are unable to return due to cancellation of flights. In many cases, these people pay huge amounts to middlemen and also take help of the Bangladesh Association of International Recruiting Agencies (BAIRA) and thousands of private agencies to find employment in these countries. Between 2009 and 2019, according to the Bureau of Manpower Employment and Training (BMET), 58,13,499 people have migrated out of Bangladesh for work. Following pie chart reflects the remittances send by the Bangladeshi workers.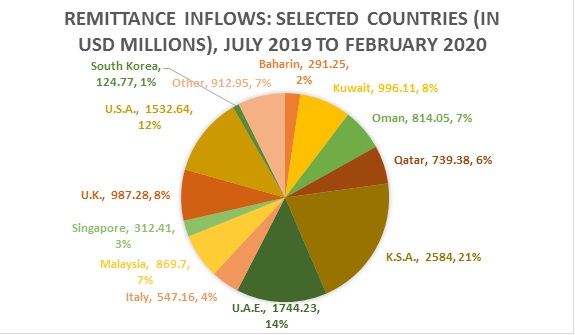 Based on "Wage Earner's Remittance Inflows: Selected Country Wise (Monthly)", Bangladesh Bank, July 2019-February 2020.
To conclude, Covid-19 is likely to have a severe impact on the Bangladesh economy. Apart from affecting the garment industry, the mainstay of Bangladesh's export earnings, the possible reduction in remittances and loss of jobs due to global downturn could contribute to the fiscal deficit, which was 5.1 per cent of the GDP last year – an 11-year high.  The government has now announced short, medium and long term programmes to boost the economy by encouraging public spending, providing working capital at reduced rates for small scale industries and facilitating raw material imports under back-to-back LC.
However, the problem is, given the spread of epidemic and lockdown across the world, the import and export markets too have been affected. Amid the lockdown, some garment exporters have announced the opening of their industries, triggering a mad rush to reach Dhaka by walking as the workers fear that they would lose their jobs. This has brought widespread criticism as some of the owners are politicians or have close connection to the ruling party. Whether this could snowball into a political challenge for the government would largely depend on the nature, scope and intensity of the impact of Covid-19 on the economy, and the perception of the people about measures undertaken by the government to deal with the looming crisis.